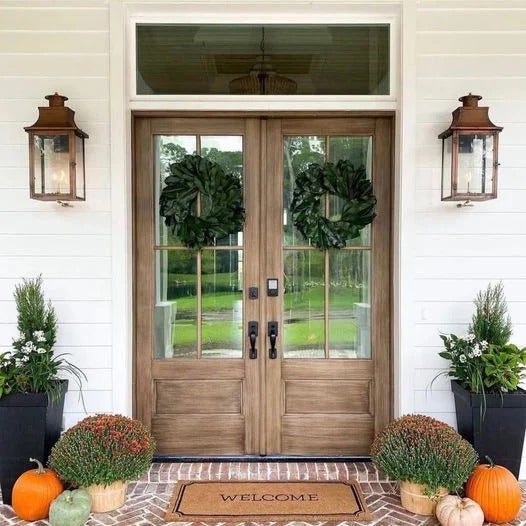 Is your front porch a little lackluster? Consider lighting it with lanterns. Returning to popularity, these light fixtures come in a slew of styles you'll have to read (or, you know, see) to believe. If you want to make the best impression on your house guests, here's our guide to picking the perfect style of lanterns for your front door.
Classic French: This is most likely what comes to mind when you think of outdoor lanterns. The bronze metal and curved, curling details are straight out of New Orleans. You can't really go wrong with two of these classic pieces on your porch…but don't make any decisions just yet.
Traditional: Don't let "traditional" fool you into thinking these are boring or average. Traditional lanterns, typically beveled glass panels in timeless metal frames, have clean lines and shapes. Most lanterns are crafted in this style. Explore the different metals and wall mounts. You may even want a hanging lantern for above your door. That will probably fall in the traditional style.
Southern Charm: Would you believe that they actually make really nice lanterns out of …mason jars? They do. Southern style lanterns use punched tin and other rustic materials that conjure thoughts of the countryside. If you live in the South, or just wish you did, these creative lanterns may be just what you're looking for.
Beach Vibes: It's common for someone to decorate their home like a beach condo, and certain lanterns contribute to this theme perfectly! White metals, rope detailing, driftwood, seashells, and sand are incorporated in some beach style lanterns. If you feel at home by the sea, let your guests know with one of the many ocean inspired lanterns.
Modern Lanterns: These are all about the geometric shapes and burnished metals. If you live in a traditional home these might not be for you, but this sleek style of lantern looks great by most front doors. On one end of the modern spectrum, the designs can be extremely simplistic, statement pieces. On the other end, the lanterns can be as complex as art sculptures. There is certainly something that will appeal to you in the modern style of lanterns.
What matters most when selecting lanterns for your home is the house itself. Depending on its design you may be limited to a certain style, but get a second opinion. If you really like a certain style of lantern there's probably a way to make it work. Lanterns are statement pieces. What kind of statement do you want your lighting to say to your guests?