Bayou Street Post Mount Lantern
Ships in 4-6 Weeks
SKU
coppersmith-bayou-street-post-mount-bundle
Overview
Bayou Street Lantern by The CopperSmith. Available in five finishes: Antique Copper, Matte Black, Graphite, Oil Rubbed Bronze, and Stardust Silver.
PLEASE NOTE WHEN ORDERING:
Photos may not depict accessories or mounting device chosen.
Bulb count is dependent on size; see sizing under DETAILS.
The finish selected does not apply to hardware (screws, bolts, chain, latches); hardware is only available in brass. Standard brackets are only available in black.
Need help with sizing? Check out our Help Center
Please Confirm Your Lantern Configuration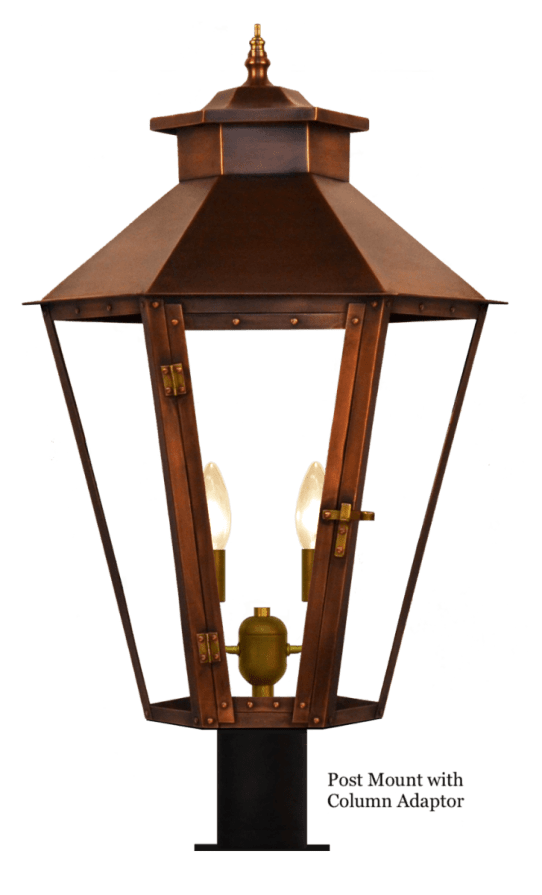 Description
Moss-covered oaks, gentle breezes, and the moonlight over slow-moving waters are just a part of the unique Southern lifestyle. The angular top that flows into the gently curved chimney gives the Bayou Street lantern a unique look, reminiscent of the bayous that can be found all throughout the Deep South.
Details
More Information
SKU
coppersmith-bayou-street-post-mount-bundle
Manufacturer
The CopperSmith
Availability
Ships in 4-6 Weeks
Post Mount Options
Post Mount
Finish
Antique Copper
Glass Type
Clear
Lantern Material
Cast Bronze
Mount Type
--- Standard Mount, --- Column / Pier Mount
Number of Sides
6 Sided
Installation Manual
Pier Mount and Post Fitter lanterns will have a valve that comes straight from the bottom of the lantern into the column or post.
All electronic igniters operate on 120V.
The gas line does not come out of the mount or back-plate. Please use 1/4″ flexible copper tubing.
Always check before roughing in your gas line for installation as position changes with the type of mount.
About the Manufacturer
The CopperSmith features one of the largest selections of copper gas and electric lanterns along with many decorative bracket options.
Dimensions (H x W x EXT)
17.5" x 8.5" x single-burner/2-60W bulbs
20.5" x 10" x single-burner/2-60W bulbs