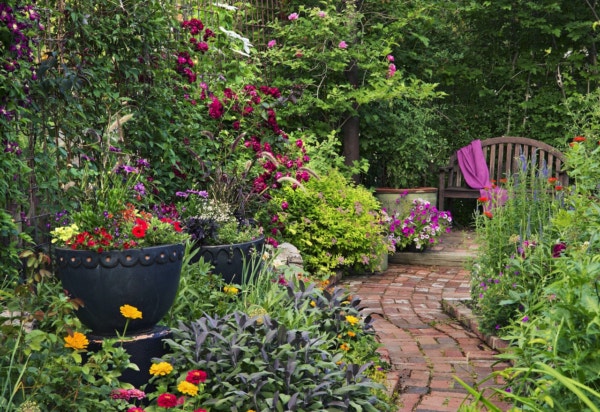 We are living in unprecedented times. The COVID-19 pandemic has been around for the better part of a year, and where there was once hope of things "returning to normal" more quickly, we are now understanding that it may be a while before life goes back to what it was. As a result, many of us have cabin fever, itching for some excitement and normalcy.
One of the best ways to help with these feelings is to get outdoors. Vitamin D, fresh air, and greenery all help to boost relaxation and happiness. It is also now one of the safest places we can be to gather together with neighbors and friends. With travel opportunities minimized and many of us working from home, why not take this time to spruce up our outdoor spaces? An inviting porch, patio, or garden expands our world and invites others in. A little outdoor magic might be just what the doctor ordered
Magic Tricks
Front Porch
A front porch sets the first impression as it is the first thing visitors interact with. If a home is a reflection of those who live in it, what does your front porch say about you? What do you want others to feel when they come into your space? The front porch is the perfect place to showcase your style and welcome others.
The first, and maybe one of the easiest things to update – is repainting your front door. Start with finding the colors that might work with your home's exterior. There are fantastic online resources for color wheels and recommended palettes to help you pair colors that work well together. Next, match your color options to swatches in your paint store, and get a couple of samples to bring home. Paint large pieces of cardboard right to the edges with each sample. Hang it up over your door and observe it at different times during the day to make the best decision. Finally, you'll want to select the type of paint. While matte paint hides the imperfections of brush strokes, glossy paint is easier to clean and makes a more modern statement.
You're ready to get started. You will want to have a medium-sized brush for the main parts of the door, and an edging brush for the details and, well, edges! Tape around the door. Take your time with this step to make sure it's placed exactly along the current paint's edges. It is best to remove the hardware, but if you cannot, carefully tape over it so it does not get painted by errant brush strokes or drips from above. Use a coat of primer or two if you're moving towards a lighter color, and be sure to leave time in between coats for the paint to fully dry.
Now that you've updated the door, you should prominently feature your work of art! First, choose a new welcome mat. There is an endless amount to select from on the web, including funny, decorative, and personalized options, like this one from Hamlin Row:
Next, add some planters on either side of the door. Choose either a color that pops, or one that blends with your color-established scheme to let the flowers take center stage. The right height should be about 1/3 of the height of your door (with or without the flowers). Layering together a few different planter heights together also works well. Don't have a green thumb? Either choose one flower that fills out the entire planter much like a bush, or select your flowers based on height. Put a tall option in the back, medium to small in the middle, and select a hanging plant to dangle over the planter's front edge.
Don't forget to light up that pretty door so that it can be admired at all hours! A glowing gas lantern is a perfect addition to any porch as the warm flame not only safely leads visitors to your door, but also welcomes them. Our friends at French Market Lanterns are the leading online sellers of handcrafted outdoor lanterns and have a fantastic selection of options. Don't have a gas hookup? A warm-colored electric bulb or one that flickers can have a similar effect. Check out their blogs to learn how to select the right fixture for your porch.
Finally, create a little seating area if space permits. More families are out walking to escape the house – so there's a lot more action to observe! Being visible to others also encourages interaction and fosters connections – something many of us sorely need right now. Feature Adirondack chairs, benches, or even a bistro table and chairs. The most exciting option is a porch swing, as it soothes fidgety legs and provides an element of fun! To bring it all together and add that touch of thoughtful design, add pillows and/or a cushion, as well as a table with a little plant to set down your happy hour drinks to wave hello to your neighbors.
Backyard
For your backyard, you may dream of incorporating a deck, patio, gardens, or trees. But if you have space and budget, each of those options comes together to make a lovely outdoor living space.
Should you have a patio or deck, focus first on making sure your furniture Is comfortable and flexible to make the most of your space. Don't forget to leave room for social distancing and walkways! Building half-walls doubles as seating, while adding a touch of formality and solidifying edges. If your deck or patio is larger, organize it based on function. For example, one section with a grill and bar would be for cooking and drinking, another with furniture is for lounging by a fire pit, and the third could feature a cute picnic table positioned nearby the grill for eating. When deciding what goes where consider how you would use each of those spaces. For example, the grill should likely be near to the house to allow you to easily carry food outside from the kitchen, while you might wish the picnic table to be positioned in a mostly shaded area during the hottest points of the day. Adding a rug or changing the pattern, color, or height of the hardscape of the various sections further clarifies the zones.
A small water feature is another thing to consider adding near your patio. The sound of water flowing is very relaxing, adds white noise, and can double as a drinking fountain for your furry children. Pro tip: The closer to the house the water feature is positioned, the cheaper it will be! A pergola is aa nice addition, as well. It adds shade, height, and is yet another way to mark off a zone. Add decor to your patio, too. Like the front porch, patterned pillows, colored cushions, and cool tables (think: stacked with different heights or uniquely-shaped) that are built for the outdoors are great ways to make things pop and add personalization.
Lighting is an important consideration here, as well. Having lights allows the space to be useable and safe well-past sunset on warm summer nights. Consider placing them against the house, on column tops, strung over the patio, and/or on stairs. Another thoughtful addition are up-lights on special features or shining up onto the home. They make a huge impact as a finishing touch.
Finally, include plants, trees, and gardens around the property. Plant beds can line your patio or walkways creating more depth and interest. Using rounded edges here that undulate from the hardscape soften corners and make everything feel more organic as it would appear in nature. Choose your favorite colorful, fragrant plants and keep them near where you might sit to entice your senses. Trees provide shade for you and your animals under the hot sun, create privacy from the prying eyes of neighbors, and act as a hypnotic focal point of dancing leaves when the breeze blows. As for gardens, planting vegetables grant the ability to eat fresh each day without needing to drive to your grocery store and don a mask. Perhaps one of the most unique garden ideas is to design a "secret garden" like the one in the novel by Frances Hodgson Burnett. Having a gate that opens to a winding path through tall plants, trees, and wildflowers can create a sense of childlike wonder. A small bench or chair tucked away at the termination of the walkway would be the perfect place to hide out and unwind with a good book.
Summary
As you can see, there are a number of phenomenal opportunities to make the most of your outdoor spaces. From small paint jobs to lovely gardens, and full fire pit patios – the opportunities are endless. The biggest thing to keep in mind is that you're looking to create living spaces. This means that much of what you might do indoors to make it feel more like home applies here, too.

Nature contributes to your wellbeing; making you feel better emotionally, and reducing blood pressure, muscle tension, and heart rate – so maximizing time immersed in the great outdoors is greatly beneficial. While this is needed during COVID-19 more than ever, it is an investment that will continue to bring you and your loved ones joy long into the future.

Our Styled Buy businesses have the decor, furniture, and lighting needed to optimize your outdoor dreams. We're looking forward to helping you create some open-air magic.