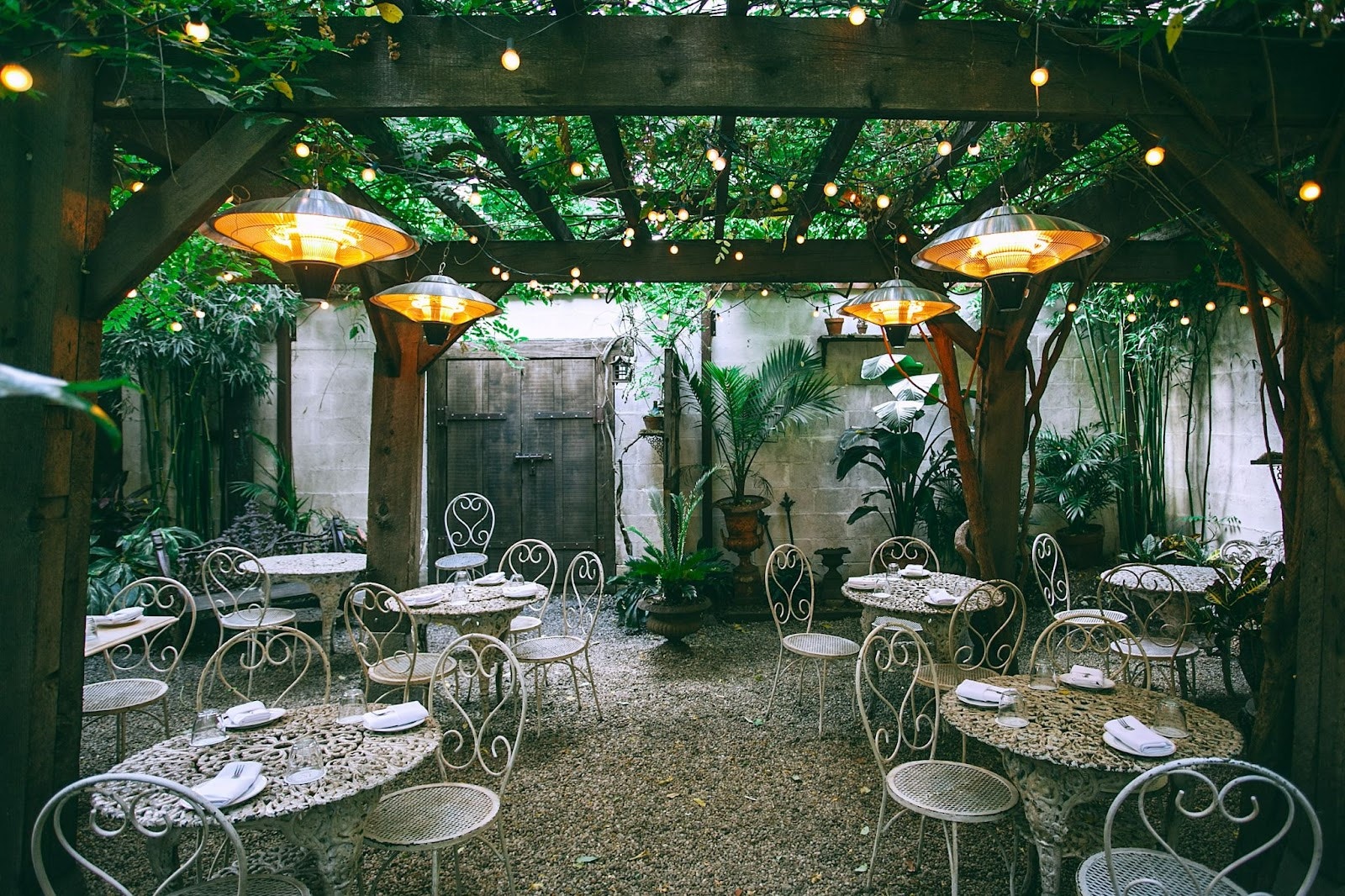 Creative backyard lighting ideas can transform your outdoor space into an inviting and enchanting oasis. Whether you have a small patio or a lavish lawn, it deserves to be enjoyed even after dark. The right lighting concepts and fixtures add a completely different mood to your backyard by setting a scene for enjoyment or relaxation, adding a sense of mystery to vast spaces, highlighting landscape features, and accentuating architectural features of your home while providing safety lighting and improving navigation.
Here are some creative outdoor lighting ideas to help you create the perfect ambiance that you can enjoy on your own on a perfect starry evening or with company.
Create a Festive Atmosphere with String Lights
String lights are a popular and versatile option for adding a festive touch to your backyard. You might have already seen these lights at garden weddings, with small bulbs connected by a thin wire and strung along trees, fences, pergolas, or other outdoor structures to create a warm and inviting glow.
The bulbs come in a wide range of colors, shapes, and sizes, making it easy to complement your backyard decor. Some popular styles include globe lights, lanterns, and fairy lights, with the latter being the best option for creating a magical, dreamy effect. You can even find lantern string lights to create the illusion of a larger globe without having to increase the voltage.
What's great about string lights is that they are energy efficient and relatively easy to set up. They can be easily hung using clips or hooks, so you can add them on short notice and remove them when the party is over – although they can also create a relaxing atmosphere during quiet nights under the stars!
TIP: Surrounding an important section of your backyard, such as the seating area, with string lights can help create a cozy "room" effect. Unlike fences or partitions that can make an area feel confined, string lights lend a sense of openness and a more welcoming ambiance.
Experiment with Pathway Lighting
Pathway lighting is great not just for illuminating walkways for safe navigation but also to elevate the aesthetic of your backyard when the sun goes down. Depending on your desired style and area you wish to illuminate, there are all sorts of pathway lighting that you can use so don't be afraid to mix and match!
To achieve a more sophisticated look, you can try uplighting the trees and fences surrounding your walkway with spike lights that are carefully spaced apart. You can also opt for recessed lighting in the grooves of your decked walkways to allow more streamlined illumination without taking up space or obstructing your walkway.
For wider pathways, a few backyard pole lights or mid-level post lights in a versatile color such as black can help make a statement. If you have colored flowerbeds lining up your walkway, soft lighting to complement their colors will let the flora do all the work after dark. But for a more magical yet subtle glow, you can go modern and eco-friendly with solar firework stake lights. This is also a great solution if you're looking for low-maintenance backyard light ideas.
Control the Ambiance with Dimmable Lights
Dimmable lights have certainly changed the game with it comes to backyard landscape lighting. With the ability to adjust the brightness levels, you can create different moods and atmospheres depending on the occasion and time of day. You can also customize which area of your backyard you'd like to add focus on without having to turn off any of your lights altogether.
To create a cozy setup like a backyard movie screening or a private dinner party, keep the lights low. On the other hand, for more energetic atmospheres during social gatherings or when kids are around, brighter lights may be preferable. This level of versatility not only allows for more customization in your backyard lighting, but also helps to reduce energy consumption and prolong the life of your bulbs, resulting in cost savings over time.
Highlight Architectural Elements
Strategic backyard lighting placement can make a significant difference in showcasing and maximizing the impact of your home's most stunning architectural elements. If you have columns, arches, or other intricate detailing, well-placed backyard lighting can help draw attention – possibly with more dramatic emphasis depending on the lighting temperature – even after dark.
Such as for tall trees and fences, columns can be accentuated with uplights that can cast a gentle upwards glow. Arches are best featured with soft glowing lights on its curves and intricate detailing like wood carvings and trimmings are best complemented by discreet spotlights that can show off their textures.
TIP: Consult lighting and design experts, particularly if you already have existing lights in place. This way, you can ensure that you don't go overboard with your lighting scheme and incorporate the appropriate number of lighting fixtures that will not only provide security but also create the desired atmosphere and visual impact for your outdoor space.
Incorporate a Contemporary Outdoor Fireplace
Adding an actual fire element to your backyard landscape lighting can create a focal point that will help elevate the overall look and feel of your outdoor area. Serving as both a functional and decorative element, an outdoor fireplace provides warmth and light while giving your backyard an elegant and cozy ambiance with its flickering flames and magical shadows. Additionally, it can be used for cooking or roasting marshmallows, making it perfect for gathering with friends and family on a cool evening.
Wood-burning fire pits offer that rustic and natural look, and are typically the most affordable option. They only require wood as fuel, which can add to the ambiance and provide a smoky aroma. However, due to the maintenance required, some people opt for gas fire pits for convenience. Gas fire pits simply need propane or natural gas to light up, but they may lack the charm and authenticity of a traditional fire pit. Portable or table-top fire pits, on the other hand, are great for smaller spaces and for people who may want to take their fire pit with them on camping trips or to the beach.
We suggest you build your gas fire pit with other earthy elements like stones, bricks, stainless steel, and concrete to achieve a more modern and contemporary aesthetic for your backyard without the hassle of a clean-up.
Accentuate With Eye-Catching Decor
A beautiful backyard not only enhances your home's appeal but also provides a relaxing space to unwind after a long day. To create an inviting atmosphere, consider incorporating stunning fixtures into your backyard patio lights. You can opt for a centerpiece like a grand outdoor chandelier under a roofed deck or a traditional wall-mounted lantern that's sure to spark conversations.
Remember, the key is to choose decor that complements the style of your backyard. For instance, if you have a modern landscape, you can go for a sleek and minimalist outdoor chandelier. On the other hand, if you have a rustic backyard, wrought iron or copper lanterns from French Market Lanterns can add a touch of elegance.
Create An Indoor Ambiance Outdoors
Running out of ideas? Seek inspiration from your interior decor and bring out that indoor ambiance to your backyard. Consider elements that you love, from your indoor lighting choices to furniture pieces that can transform your outdoor atmosphere and make it a true extension of your home.
For example, if you have a cozy reading nook indoors, recreate that same comfort and tranquility in an outdoor seating area with sofas, cushions and blankets. And then, add a tall lamp on one corner or simply accentuate the center table with candles or a Victorian or Tiffany table lamp to create a seamless transition between your two spaces.
Tall potted indoor plants can also be brought outside to create a vertical garden for stunning visual effect. This way, you can enjoy both the beauty of the outdoors and still feel the comforting familiarity of your indoor sanctuary.
Utilize Smart Lighting Technology
Level up your backyard landscape lighting with motion, touch, and voice-activated lights. Make the most of what technology allows these days to have more control over your outdoor lighting for your safety and aesthetic needs.
Imagine being able to customize the color and intensity of your backyard patio lights and set different color schemes to create different moods and atmospheres, whether you're enjoying a private dinner or a lively party. You can also control or schedule them to turn on at dusk and off at dawn without having to leave your chair or the office. Motion sensor lights can also help create a stunning visual effect for specific garden areas – and pools! – so they light up when someone approaches.
In conclusion, nothing sets the scene better than an outdoor space lit by glowing lights. By incorporating the right lighting, you can transform your backyard into a magical and inviting oasis that you and your guests will love.